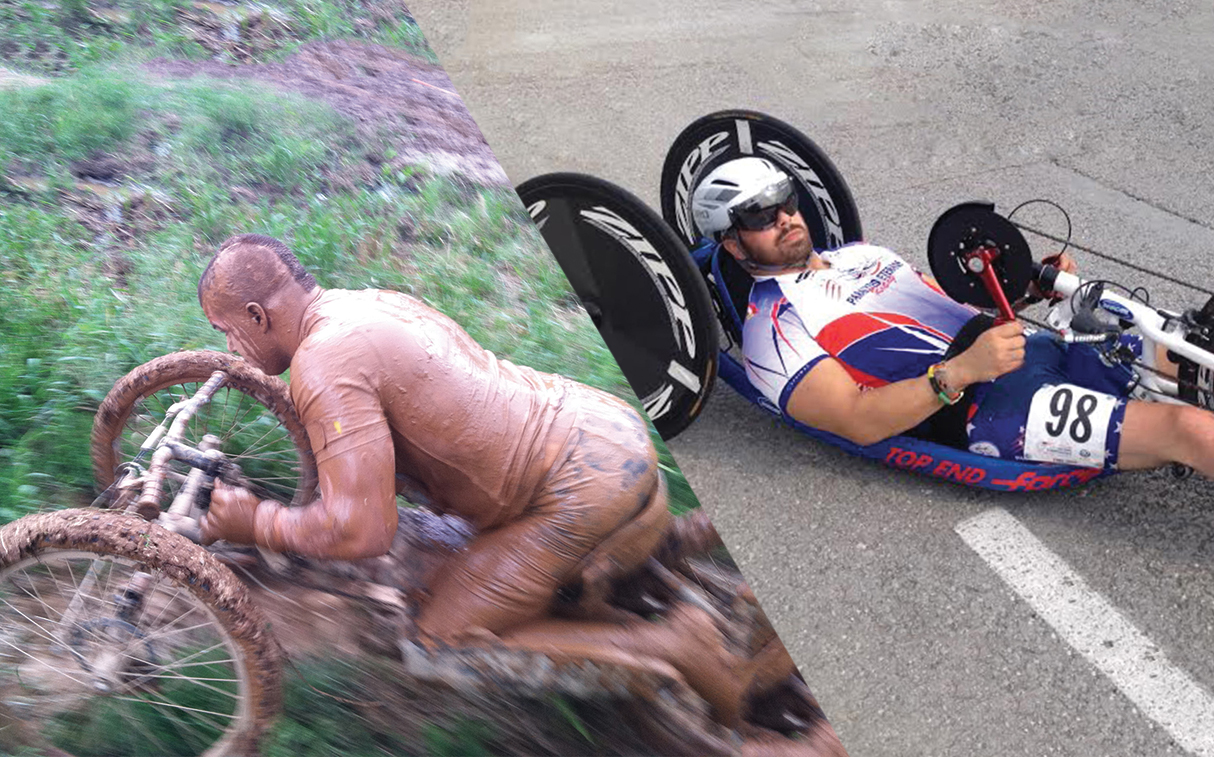 Motivational Speaker. Paralyzed Athlete. Writer.
I was a collegiate athlete heading to The Marine Corps when I fell off a roof and became paralyzed. It was the best thing that's ever happened to me. Why that is, is the essence of my story and a guide for attacking adversity.

- Michael Murphy
Michael is a motivational speaker, a 12-time marathoner with Top 5 finishes in New York and Boston, and a future U.S. Paralympic hopeful. His message is ideal for employees, students, athletes, and youth groups, with each talk catered to specific audiences for maximum impact.

SURVIVING SETBACKS

The Painful, Hard-fought Lessons from My Rerouted Life: Each of us is journeying down a particular path in life, and you better believe that path will have roadblocks and setbacks. Some will briefly force you off course, others will completely reroute you, permanently.

Michael's post-accident journey covers the lessons he's learned by conveying how you too can survive setbacks by having the right Attitude and Effort, Setting Goals, and Pursuing Your Passions.
CONQUERING EVEREST, TOGETHER

A Pre-Game Talk To Ignite Your Team and Light a Few Fires: Whether your team sits in first place or last, Michael's intimate understanding as an accomplished athlete guarantees to bring players together, elicit chills amongst those passionate and competitive, and fuel your team when they need it most!

His Tough Mudder story hits home, featuring the infamous and unfriendly "Everest" obstacle that promises to motivate players and instill team confidence so they can conquer their own Everest, together.
STOP, STUPID!

How to Get through College in One Piece, Ensure Success, and NOT Receive your Diploma in a Wheelchair: Michael's own experience as a student draws lessons ripe with timely Do's and Don'ts. His college mishaps offer poignant advice to a demographic that dangerously believes in their own "invincibility".

You will laugh and cry as you hang on every word; feeling both inspired and informed after not just listening but connecting to this refreshingly young speaker that is easily relatable to any school audience.
PLAN TO PERSERVERE

Overcoming Adversity in 3 Simple Steps - Adversity is an inevitable part of life that can occur with or without warning therefore it's critical to be prepared when it does.

Michael focuses on three tools that rescued him during his darkest hours: controlling your Attitude and Effort; establishing a clearly Defined Direction; and Sweating the Small Stuff. You will be armed with the tools to face and fight the difficulties plaguing your life, now or whenever they should appear.
"WHY NOT ME?"

Setting Your Bar High and Ensuring Success With One Simple Question: Self-confidence is critical for success. When you trust your capabilities and potential, it's much easier to achieve once sureness and confidence replace doubt and negativity.

Seeing podium athletes whose drive and determination eerily matched his own, Michael said "Why not me?" before setting his loftiest of goals - the Paralympics. You will be moved by reliving his harrowing journey and on-going commitment to excellence.
Find out more about Michael's target audiences, favorite topics and how he ties his shoes in the morning.
CURRENT LOCATION

Travels from Denver, Colorado



AVAILABILITY

Booking Available For 2019-